Sponsorships opportunities
We work with a few select companies to deliver brand awareness to their products for our 17400+ audience across multiple platforms
Last updated: November 28, 2023
We work with a few select companies to deliver brand awareness to their products for our 17400+ audience across multiple platforms:
AWS Community on Mastodon
Follow @marcosluis2186
Audience and Reach
Total audience: 17400+ and growing
Reach: 3622 and grow 120+ subscribers per month.
Audience: Software Engineers specialized in Data Analytics fields like Data Engineers, Data Scientists, and Data Analysts
Job Titles: Data Engineer, Business Intelligence Analyst, Data Scientist
Average open rate: 37.8%
Average sponsorship views: 170+
Average sponsorship clicks: 100-250
Average monthly web visitors to the blog version of the newsletter: 260+
Previous sponsors/partners: Deel (x2), Notion (x2), Coho (x1), and more.
Cost: $199
Our ad slot for a weekly promotion is currently at $199 for the main sponsorship spot, and it can be purchased through this button.
You can see an example here with Notion: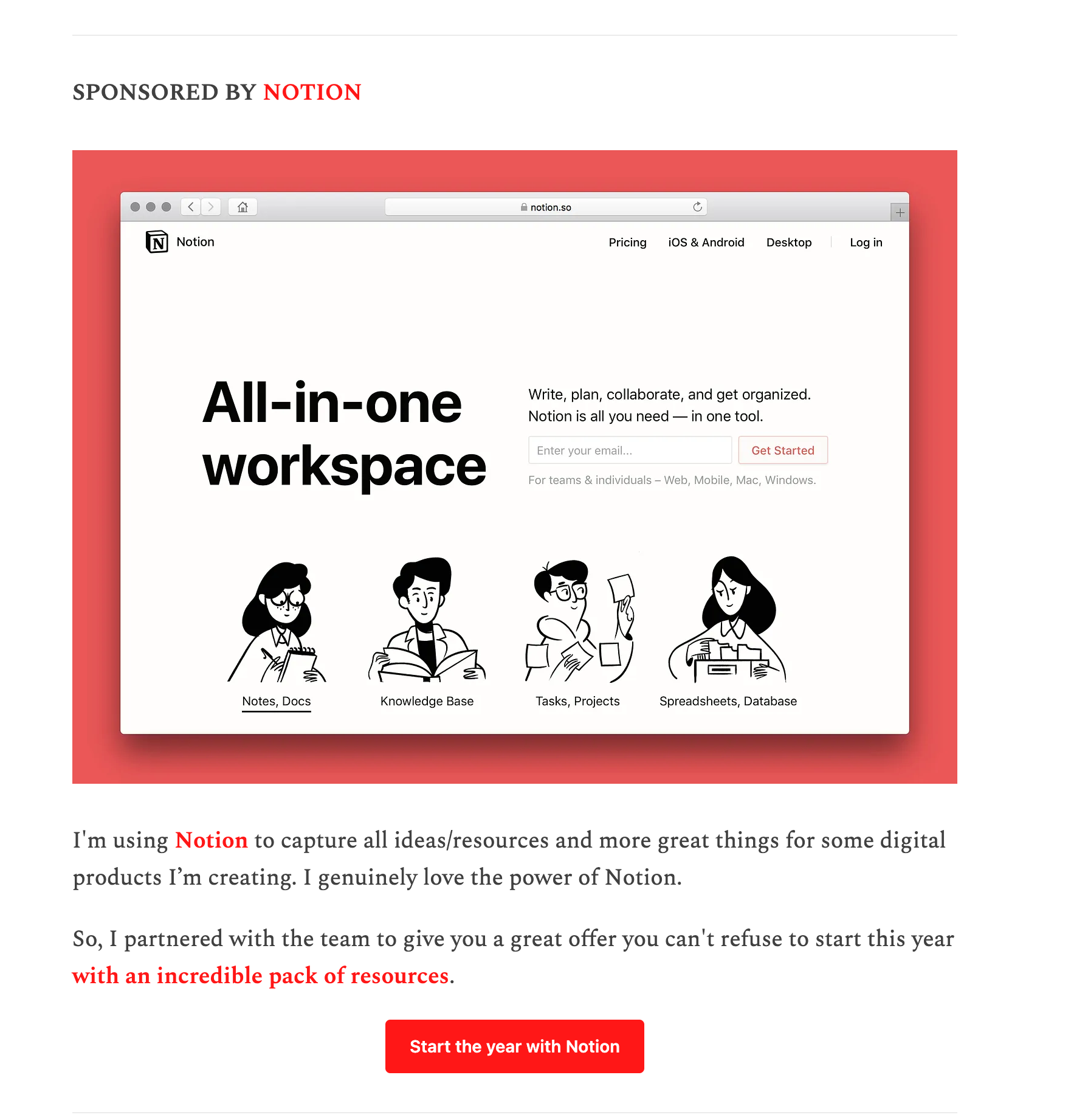 What You Get As A Sponsor

When you purchase a sponsorship, you get one advertisement in our Wednesday weekly newsletter.
Your ad will be the only ad in that issue.
The newsletter is published at 8 am every Saturday morning (Lima time), and you can expect 20-40 visitors to your website or offer, depending on relevancy.

Your sponsorship will also remain live forever on each newsletter as they are published on my website and visited 250+ times per month as I promote them on LinkedIn, Twitter, and Mastodon.
Please note that there are no cancellations or reschedules due to timing, availability, and holding the date.
Ad Creative Requirements
An optimized image of 600x600 for the web version of the newsletter and 1 sentence long with an additional sentence for a simple call-to-action, and can include one link.
Example:
"I'm using Notion to capture all ideas/resources and more great things for some digital products I'm creating. I genuinely love the power of Notion.
So, I partnered with the team to give you a great offer you can't refuse to start this year with an incredible pack of resources."
IMPORTANT
You will supply the copy and I will edit it to fit my voice
Ad copy is due 72 hours before the newsletter date
All ads are subject to editorial approval.
Any questions? Email marcos@interestinggigs.com
---
Jobs Ads
The best way to get your open roles in front of my audience is through our Talent Collective + Jobs Board here.
The most popular choice is $19 per month.
What You Get With This Subscription:
2 active in our Jobs Board
Access to talent database (currently 51 active candidates ready for interviews)
Job pinned to the top of the board: This means that your open roles will be seen first
Newsletter shoutout: Your open positions will be shared in our Substack and LinkedIn newsletters
LinkedIn shoutout: I will share your open roles with my audience on LinkedIn
Any more questions? Send me a message at marcos@interestinggigs.com